The Avengers
Art & Hue is pleased to present a new collection of graphic pop art inspired by images from the photographic archives of the cult 1960s British TV show.
Art & Hue had the pleasure of diving into Studiocanal's extensive library of production and publicity photography at Pinewood Studios to create this group of exclusive pop art prints in homage to
The Avengers
, the tale of British spies, and talented amateurs, foiling the dastardly plots of diabolical masterminds.
An official collaboration with Studiocanal, the copyright-holders of The Avengers, has resulted in this
new collection of pop art prints
, in Art & Hue's signature halftone style, which are available in a choice of 17 colours and three sizes (including Black & White which is new for Art & Hue but a must-have option for monochrome purists).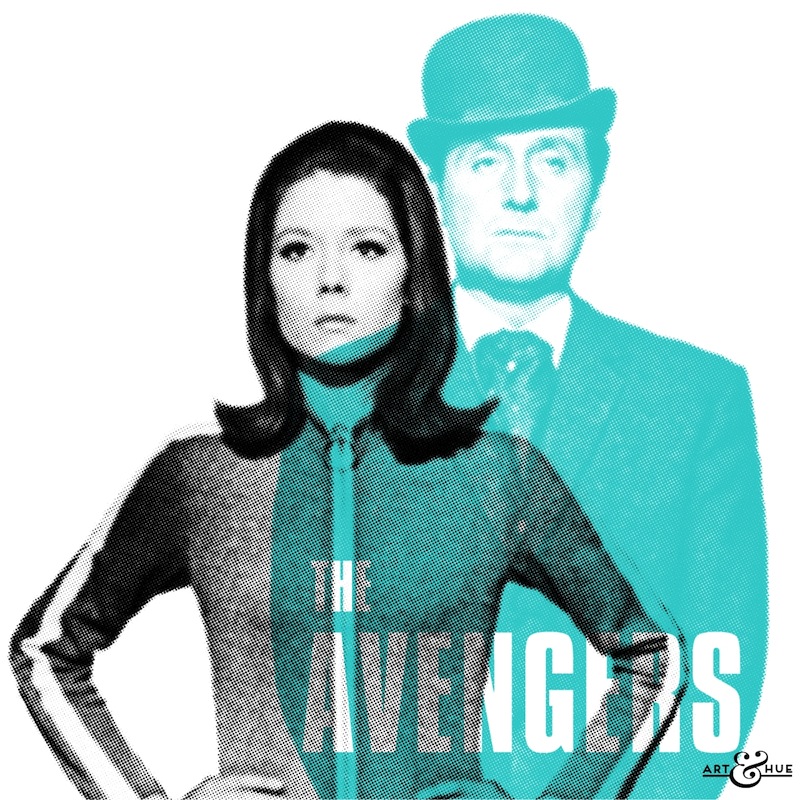 Printed on 310gsm fine art archival matte paper, made from 100% cotton, the range uses pigment inks which last lifetimes.
2016 marks the 55 year anniversary of The Avengers' TV debut in 1961.
Broadcast on ITV in the UK and ABC in the USA, the show defined the 1960s, running from 1961 to 1969, during which time The Avengers fought off Russian double-agents, dodgy politicians, and power-crazed businessmen across London – how times have changed!
Despite the subject matter, not a single drop of blood was shown in The Avengers' encounters with their enemies and Patrick Macnee insisted that his character Steed did not use a gun after the first two seasons, hence the use of an umbrella and a steel bowler hat as his weapons of choice.
The international success of the series lay in the marvellous chemistry between the two lead actors. Combining the unique talents of Patrick Macnee and Diana Rigg into one TV show created a global phenomenon which exported Swinging Sixties London as well as British humour & style across the world.

Perpetually Stylish Fashion Icons
Transcending fickle trends, The Avengers have been perpetually stylish for over 50 years. Paragons of elegance and ingenuity, John Steed & Emma Peel became instant fashion icons with famous London designers wanting to work on the show.
John Bates, credited with inventing the mini-skirt, created a wonderful monochrome op-art collection especially for Emma Peel, then Alun Hughes designed the iconic jumpsuits which became known as "Emmapeelers".
There aren't many men who can carry off the impeccable uniform of a quintessential English gent yet Patrick Macnee looked like he was born in a bowler hat. Always immaculate, John Steed was sartorial perfection in his Savile Row tailoring, most of which he apparently co-designed.
Mrs Peel's outfits ranged from leather to jumpsuits which would have distracted from the performance of any other actress, but Diana Rigg demonstrated such a strong presence that no amount of cut-outs or corsets could draw focus from her powerful personality.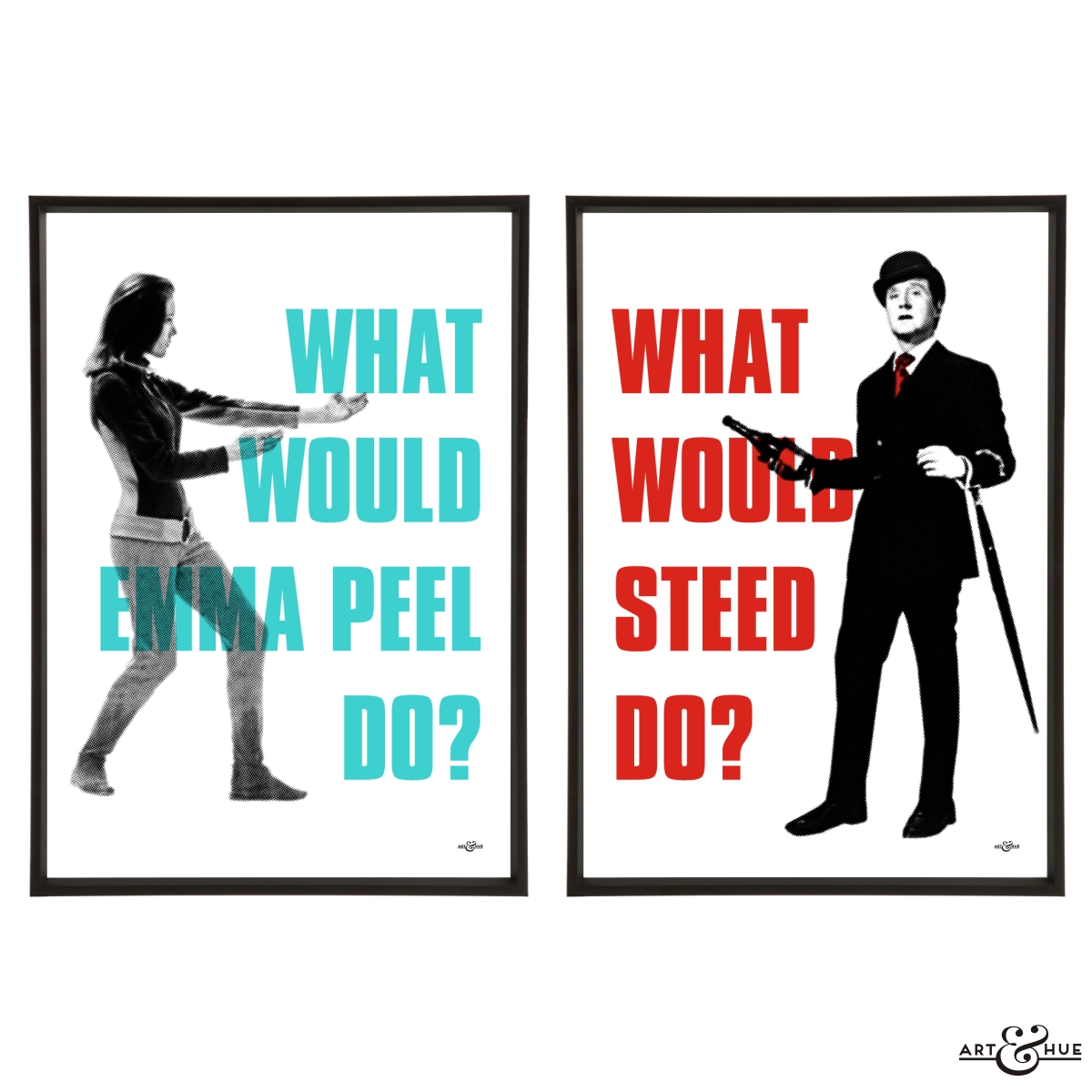 Stylish, elegant, and with idiosyncratic pronunciation, Diana Rigg is a true one-off who could captivate an audience by reading the phone book.
Patrick Macnee, who sadly passed away in June 2015, was a unique actor who had charm and a cheeky twinkle in his eye, with the manners of the most polite British gentleman yet believability as a spy which no doubt came from his military background in the Royal Navy.
The international influence of Diana Rigg as Emma Peel should not be underestimated. Whilst the cast and crew have since stated they didn't realise the impact a female co-lead would have at the time, seeing Diana Rigg take the role of an independent woman to another level after Honor Blackman was globally ground-breaking.
A strong and powerful woman on TV, who took on evil henchmen with high-kicks and karate chops and matched Steed's wit, it's no wonder that Emma Peel was a positive role model for young girls and adult women the world over, at the time of broadcast and during subsequent airings.
Innovative at the time and enthralling to this day, The Avengers have inspired this new exclusive collection of pop art by Art & Hue. Take a look at the art prints below or here.
>>> Meeting Mrs Peel! BFI update <<<
If you want to relive the series, or discover it anew, the complete collection is available as a DVD box set or you can find the Emma Peel episodes on Blu-ray.
"The Avengers" Copyright © STUDIOCANAL Films Ltd, (1961-1969). All rights reserved. | Copyright © Art & Hue ™